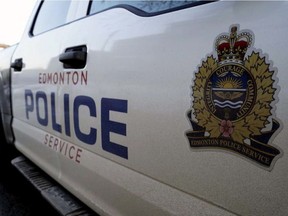 Article content
Police arrested and charged a man after he allegedly spat on and hit a car occupied by a Muslim woman and her children, uttered violent and Islamophobic threats and damaged the property of a local mosque on New Year's Day.
Advertising
This ad has not been loaded yet, but your article continues below.
Article content
The National Council of Canadian Muslims (NCCM) said in a statement issued Tuesday that it is "deeply concerned" about the attack and that it is coming on the heels of other attacks on visible Muslim women in Alberta.
The Edmonton Police Service (EPS) said they were responding to the incident near a "religious institution" on 54th Street and 122nd Avenue on Jan. 1.
The NCCM said the facts of the attack were "disturbing" and that the man spat on the car window, punched the car several times, uttered a series of violent and Islamophobic threats and damaged the mosque's property.
At one point, the attacker reportedly left the scene and returned with a shovel to continue creating chaos.
"The growing number of Islamophobic attacks in Alberta is alarming. NCCM has supported several victims in Alberta since December last year, and we continue to call on the Alberta government and various municipalities throughout the province to take swift and immediate action," said Said Omar. , Alberta Advocacy Officer for NCCM.
Advertising
This ad has not been loaded yet, but your article continues below.
Article content
"We need to see the province step forward with the city and create a two-part provincial-municipal action plan. Everyone has the right to feel safe in public space, regardless of their background."
NCCM said it will continue to follow the investigation and is in touch with local law enforcement. The organization also provides support to the victim and her family.
Police arrested and charged Jeffrey Ryan Hill, 34, for misconduct under $ 5,000 and for uttering threats, Scott Pattison, EPS communications consultant, said in an email. He added that EPS continues to provide support to the family involved through its crime- and trauma-informed support services.
"After consulting the EPS Hate Crimes and Extremism Unit, investigators have also recommended that section 718.2 of Canada's Criminal Code be applied in this case, allowing courts to consider increased sentencing when there is evidence that the offense was motivated by hatred." said Pattison.
Advertising
This ad has not been loaded yet, but your article continues below.
Article content
Since December 2020, 10 allegedly hate-motivated attacks on black and / or Muslim Edmontons have been reported to police in the Edmonton area. The last took place on June 23 on a trail near Alderwood Park in St. Louis. Albert, when two hijab-wearing sisters were allegedly attacked by a man carrying a knife. No suspect has been identified in the case.
The January 1 attack is the first violent hate-motivated incident in the period that took place in a mosque. Other attacks took place on the streets, in parking lots and in transit centers. Three of the accused in the attacks were indigenous people who were homeless and engaged in mental health and addiction problems at the time of the offenses.
During the 2021 campaign, Mayor Amarjeet Sohi said his "top priority" is tackling hate-motivated violence.
ktaniguchi@postmedia.com