"I'm not asking them to put God back in Parliament, we do," Henry Hildebrandt told protesters Sunday at Parliament Hill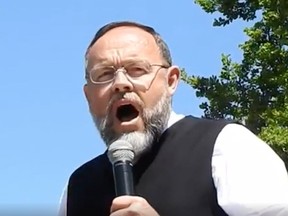 Article content
Henry Hildebrandt, the zealous pastor of The Church of God in Aylmer, Ont., Preached to hundreds of trucking convoy protesters attending a sermon Sunday outside the prime minister's office.
Article content
If the Prime Minister does not want to "heed the word of God", then the protesters can "knock on your door", he said to the energetic crowd:
"Mr. Prime Minister, if you do not want to listen to the word of God; if you do not want to listen to the 25 Bible verses that are engraved (in Parliament), you can make a bang come and knock on your door."
"I'm not asking them to put God back in Parliament, we do," said the anti-mask church leader, who has been fined thousands of dollars for defying the COVID fundraising boundaries at his church near London, Ont.
"Mr Prime Minister: Your words of division and contempt are contrary to the very foundations of our beautiful country Canada!" declared Hildebrandt.
He demanded government officials uphold the Constitution, the Bill of Rights "and most of all … the word of God."
The Mennonite pastor, whom the London Free Press has called a "publicity dog", has provoked controversy for defying anti-COVID restrictions in his church that are resistant to modern medicine.
The small town church has defied public health restrictions several times, resulting in over $ 100,000 in fines by the court. Last year, police reported having seen hundreds of gatherings both indoors and outdoors for weeks in violation of pandemic rules. Aylmer, a city of about 7,000 residents, gained improved access to vaccines after being a hotspot for outbreaks several times, the LFP has reported.