Two-year-old Jonathan loves going to the park with his mother. When there, Gemma Najem is "his body" – taking the cheeky and bright youngster on the equipment and helping him play with his brother.
Roughly one in 10,000 babies are born with spinal muscular astrophy, a disorder similar to motor neurone disease which causes muscle weakness. For Jonathan, the impact the condition – diagnosed at birth – will have on his life was reduced substantially when he received access to gene therapy before he turned five months old.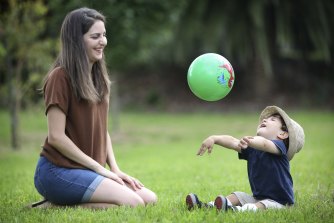 Although she is grateful for the treatment he did receive, Ms Najem said she was aware that, had Jonathan been born a little later, or in a different place, maybe he would not need her help to jump.
"In America, where gene therapy was developed, there are kids being treated pre-symptomatically now," she said. "A child can be picked up as needing therapy, treated and may never need mobility equipment."
You may have heard the term "viral vector" in recent years referring to the AstraZeneca and Johnson & Johnson COVID-19 vaccines. But viral vectors – microscopic tools which deliver genetic material into cells – were first developed in the 1970s and, even before the pandemic, were providing hope in the treatment of rare cancers and genetic diseases through gene therapy.
The NSW government is hoping western Sydney can become a world-leader in viral vector manufacturing, with a $ 25 million facility to be created at Westmead, the first commercial scale facility in Australia.
Professor Ian Alexander, head of the gene therapy research unit at Sydney Children's Hospital, said although gene therapy has been around for more than 25 years, there had been significant developments in the past three to five.
"I used to joke, 'If you're a sick mouse, come and see me.' But we are at an inflection point in gene therapy: now we are no longer looking to just cure another mouse in a laboratory, "he said.
While previously gene therapy, such as the treatment Jonathan received, focused on replacing whole genes, Professor Alexander said recent developments meant the therapy could also be "more like editing a manuscript".