Vancouver Fire Rescue Services was called to the home near 41st Avenue and Earles Street around 7:30 p.m.
Article content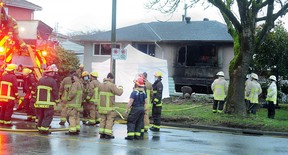 Three generations of a family in eastern Vancouver died in a house fire early Sunday morning.
Vancouver Fire Rescue Services chief Karen Fry said firefighters arrived at the scene and found two people outside the home, one badly burned.
The survivors said there were still three others inside the home's basement.
Firefighters entered the burning home and located and removed three people, including a child under the age of 10.
Resuscitation attempts to rescue the trio failed.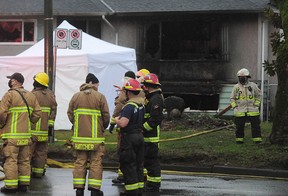 Fry said three generations of the same family lived in the home.
She said the deceased were the child, her mother and grandfather.
The survivors were the father and grandmother. The father was badly burned and the grandmother suffered from smoke inhalation.
Fry said there is no indication of how the fire started, but investigators do not believe it is suspicious. It is currently unknown whether smoke alarms were active in the home.
Fry said 40 firefighters attended the scene, supported by the Vancouver Police Department.