Another storm will hit Britain in a matter of hours, a day after falling trees in storm Malik's strong winds killed two people.
The Met Office has warned that another deep low-pressure system, called Storm Corrie, will bring further erratic weather – particularly to Scotland – later on Sunday and into Monday.
Corrie will bring winds of up to 90 mph in some exposed coastal and mountainous areas of Scotland.
Check your local weather forecast
Amber and yellow warnings of severe weather for wind are in effect, which say "flying debris is likely" with possible damage to trees and buildings.
The Met Office warning said: "There is likely to be damage and danger to life from large waves and beach material being thrown onto coastal roads, seafronts and properties."
Chief meteorologist Dan Suri said: "Storm Corrie will bring very strong winds to the north of Britain, especially northern Scotland, on Sunday. This follows only a day after storm Malik moves through, which also means a period of very strong wind.
"Storm Corrie will bring gusts of up to 90 mph to exposed coastal areas in northern Scotland, with gusts of 70-80 mph more prevalent in the north."
'Cool down for the next 24 hours'
Robert Colburn, emergency manager for the Red Cross Scotland, said he and his team are "ready and on standby" if required.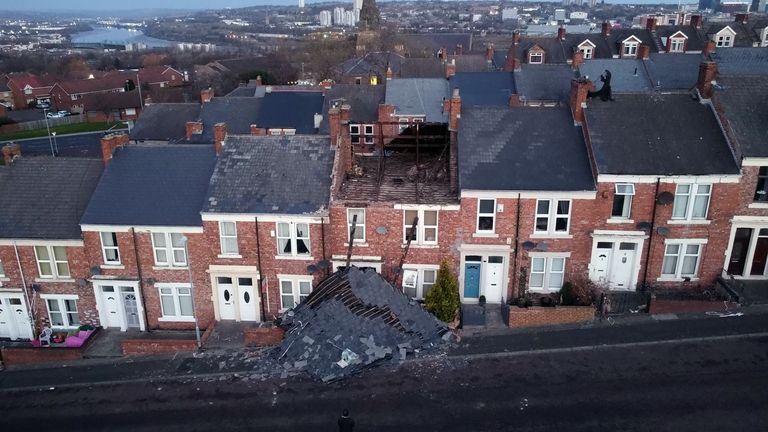 He told Sky News that people should be prepared to "hunk down for the next 24 hours if required".
"All these things, all that weather, you can prepare for, but you just have to sit and wait and see what happens when it actually hits," he said.
"There are lots of things that people can prepare for – this afternoon, for example, you need to prepare to stay home. If you are not going out, you should definitely not go out. Get your mobile phone charged. Have a free battery-powered radio and torches, just in case you get a power outage. Have easy to prepare snacks in the house, bottles of water. "
It comes after Storm Malik cost the lives of a nine-year-old boy and a 60-year-old woman.
The young man died after a tree fell on him and a man in Winnothdale, Staffordshire, around 1pm on Saturday.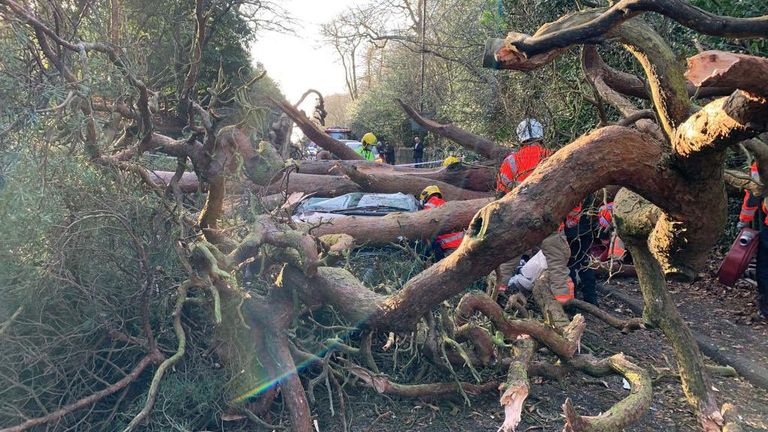 Both were taken to Royal Stoke University Hospital, where the boy died and the man remains for treatment.
Separately, the woman died after being hit by a felled tree in Aberdeen.
Sky Sports reporter Keith Downie shared photos of injuries on Twitter after his car was crushed by a falling tree.
He wrote: "Luckily I'm safe, but things could have been a lot worse."
Houses still without electricity
More than 130,000 homes and businesses suffered power outages along with extensive travel disruptions.
Northern Powergrid said Sunday morning that 19,000 customers are still without power, almost all of whom are in Northumberland and Durham County.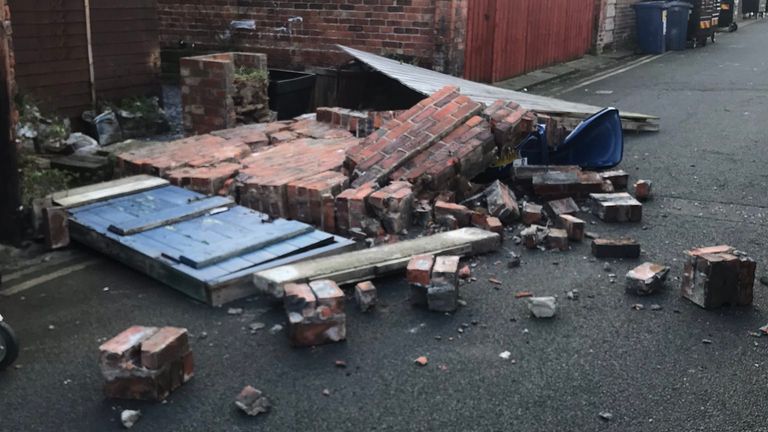 Team is working to repair any damage, but said it is not as serious as Storm Arwen has seen, making the work less challenging.