A Vancouver man who pleaded guilty to an assault of another man who died two days later has been sentenced to 38 days in jail.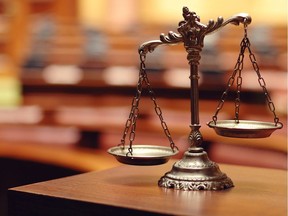 Article content
A man whose assault of a man outside a mental-health residence in Vancouver's Downtown Eastside was followed by the victim dying in hospital two days later has been sentenced to three years and two months in jail.
Article content
After receiving enhanced credit for more than two years of pre-sentence custody, James Frederick Fierheller, 53, will have one additional day of incarceration to serve.
Article content
In May, Fierheller pleaded guilty to the aggravated assault of Jeff Strom on the sidewalk in front of Victory House, a supportive mental-health residence at 353 East Cordova St.
At the time of the incident, Strom, who suffered from several medical conditions that required him to use a walker and carry an oxygen tank, was a resident of the home. Fierheller was homeless.
According to admissions of fact filed in court, on Aug. 26, 2020, Fierheller approached Strom as he was sitting on his walker on the sidewalk in front of Victory House. Fierheller yelled at him and punched him several times on the shoulder and the head. Strom fell from his walker and hit the ground. Bleeding from the head, he was taken to St. Paul's Hospital but died two days later.
Article content
A pathologist did not identify a cause of death but an intensive care physician hypothesized that Strom aspirated vomit or saliva at some point after the assault or in hospital and, as a result, developed inflammation or an infection in lungs already severely weakened by a chronic pulmonary disease.
In imposing sentence, BC Supreme Court Associate Chief Justice Heather Holmes noted that the attack was unprovoked.
"It was purposeless, and it was devastating in its consequences. The consequences for Mr. Strom were tragic and final. The consequences for his family have also been severe."
The judge said Strom's mother, who is in her 80s and legally blind, wrote about the terrible emotional and physical consequences she had experienced, and about her fear of leaving home on her own.
Article content
One of the victim's sons wrote about the awful effect of the loss of his father, including negative effects on various relationships with family and friends.
Fierheller has a long history of mental illness and contacts with the police. In March 2020 he was diagnosed as having a major mental disorder, including psychosis. He also has a history of drug addiction and struggles with homelessness.
In addition to the jail sentence, Fierheller will be on probation for 36 months. The conditions include that upon release from custody he returns to the Forensic Psychiatric Hospital and resides there until being discharged, and takes medication as prescribed.
The judge said the conditions were designed to allow Fierheller to complete his treatment at the forensic hospital and then move as soon as space is available to an addiction and rehabilitation centre.
kfraser@postmedia.com